Marimekko Spirit
Marimekko's success rests on strong staff commitment and the ability to utilize every individual's skills and creativity in daily work. We believe in fairness, courage and cooperation, and foster an open, non-hierarchical corporate culture that is based on creativity and entrepreneurship. The Marimekko spirit, incorporating the company's values, forms the backbone for our daily work together.
Managers are supported in strengthening their leadership skills so that they can serve as inspiring mentors for their teams and create the conditions for operations to run smoothly. Good leadership strengthens employees' wellbeing, commitment and performance. The continuous development of leadership capabilities and providing support for managers in their everyday work aim at high-quality responsible leadership in Marimekko.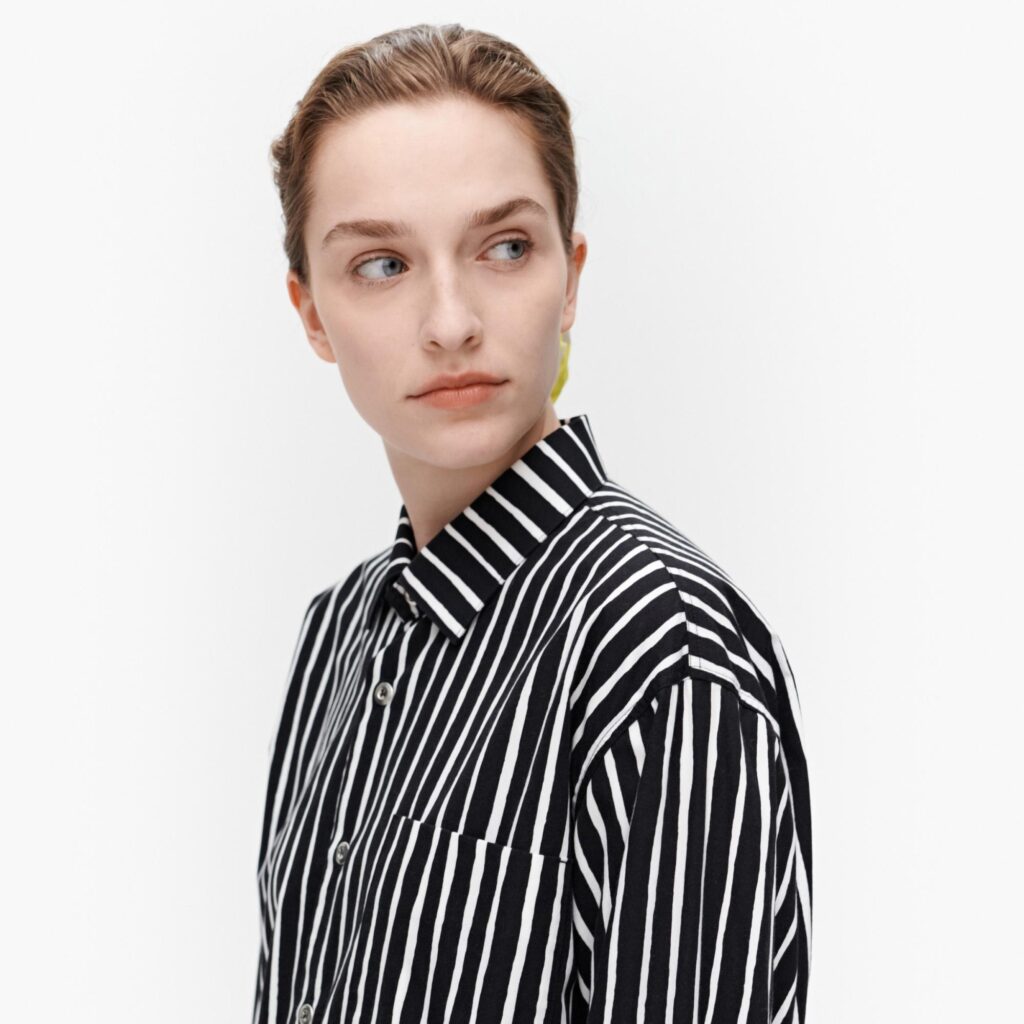 Employee wellbeing
In Marimekko, wellbeing is supported by promoting employees' health, working and functional capacity and by ensuring an empowering working athmosphere. This work is underpinned by close cooperation between occupational healthcare, human resources, managers and the workplace safety organization. Among other things, developing leadership and an active feedback culture, supporting the work-family life balance and recreational activities contribute to employee wellbeing and satisfaction in the workplace.
Marimekko uses an early intervention model which serves as a tool for detecting problems, talking about them and finding resolutions at the earliest possible stage. The model aims to promote wellbeing in the workplace and ability to work. We work for example on identifying the reasons for absences due to illness, and strive to prevent them. The objective is to improve the working conditions and prevent prolonged absenteeism and early disability retirements.
Employee engagement
An employee engagement survey measuring employee well-being and enagagement is conducted every two years. The survey is an important development tool in building tomorrow's Marimekko. Based on the results, members of each team develop their ways of working together and aim to find best practices for maintaining an exciting working environment. In the latest surveys, Marimekko's results have on average been on a better level compared to peer companies. In the survey carried out in early 2020, the overall result was 74.1 on a scale of 0-100.
Our Code of Conduct
We want to work according to the same principles around the world, complying with local laws and the Marimekko values and following responsible and ethical business practices. The key principles for ethical business practices are included in the Marimekko Code of Conduct and the Supplier Code of Conduct. We have a Code of Conduct e-training, which all employees are required to complete and every employee is responsible for acting in compliance with the Code of Conduct.
Reporting on misconduct – Marimekko's whistleblowing channel
Whistleblowing provides an opportunity to report suspicions of misconduct; anything that is not in line with applicable laws, Marimekko's core values, Code of Conduct, or other policies.
Marimekko's whistleblowing channel is available here: https://report.whistleb.com/marimekkocompany. You can raise your concern anonymously if you wish.
All messages will be processed in confidence by a dedicated team in Marimekko.