Manufacturing countries and suppliers
Marimekko's own textile printing factory in Helsinki prints all Marimekko fabrics sold by meter, all kitchen textiles as well as some of the fabrics used for clothing and bags – around a million meters per year. In addition, products are manufactured by skilled partner supplier network in Europe and Asia. Majority of Marimekko products are manufactured in EU countries and the rest outside the EU.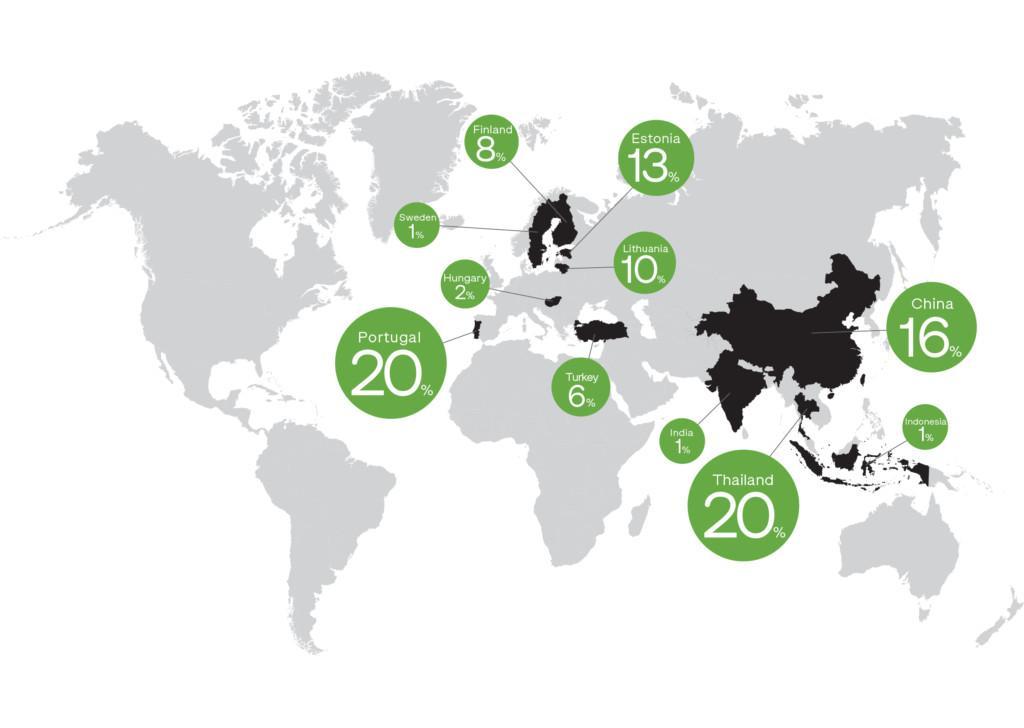 Good and competent suppliers play a key role in Marimekko's competitiveness. We aim at developing long-term cooperation with our suppliers and with many of them we have collaborated for more than 20 years. In 2021, our products were manufactured by a global network of around 160 partner suppliers. You can find a list of Marimekko's partner suppliers here.
With the help of skillful and diverse supplier network we can offer our customers a wide range of high-quality products. The goal of Marimekko's sourcing is to find the most competent manufacturer for each product. Regardless of where our products are made, we want to ensure that they are manufactured in accordance with our values, respecting people and the environment. We choose our suppliers carefully and, in our selection, in addition to commercial terms, we pay close attention to sustainability matters, such as working conditions, safety and remuneration.
Sustainability as part of our sourcing principles
Supply chains in the textile industry are complex and involve many players – thus, enhancing sustainability in the supply chain from raw materials to the stores demands patient work.
Marimekko's sourcing adheres to the principles of responsible sourcing. All partner suppliers must commit to following our Supplier Code of Conduct. The Supplier Code of Conduct details, among other things, the respect for human rights, including strict principles against child labor and forced labor, and for the right for the workers to organize and the right to equal treatment. We are also a member of the European amfori BSCI initiative, which aims at promoting the monitoring of and improving working conditions in global supply chains. Purchase agreements signed with the suppliers bind the supplier to comply with the International Labour Organization Conventions and the amfori BSCI Code of Conduct. Adherence to the Code of Conduct is monitored with own factory visits. In addition, third-party audits are for the most part carried out in factories outside Europe, in countries that are considered higher risk.
In 2021, 100 % of our purchases from partner suppliers operating in countries outside the EU were covered by social audits. Of all our purchases, 74% came from partner suppliers either with the best amfori BSCI A rating, SA8000 certification or from non-risk country suppliers. A total of 10 amfori BSCI audits were carried out in 2021 at the factories of our direct manufacturing partners. None of the audits identified any zero-tolerance findings, such as indications of child labor or forced labor, or imminent and significant risks to workers' health. However, the audits almost invariably identify other areas for improvement, which is typical of manufacturing. The audit findings and areas for improvement are reviewed with the factory management and corrective action plans are put in place where necessary. Details on audit findings and corrective actions are reported in our Sustainability Review. The Sustainability Review 2021 will be published in summer 2022. Based on the follow-up audits conducted in 2021, corrective actions were completed for 39% of the findings. However, there was great variation between suppliers; some of the suppliers had corrected all findings and some only a few. The implementation of remaining actions will be monitored by Marimekko and in future audits in accordance with the amfori BSCI audit cycle.
Our own printing factory
Finland is still an important manufacturing country for Marimekko: in our own printing factory in Helsinki around million meters of fabric is printed every year. The Marimekko factory is one of the only industrial-scale textile printing factories in the Nordic countries. Fabric printing and design expertise has always been the core of our business. New printed fabrics and the products made from them result from teamwork between specialists in several different fields, and it is particularly important that our designers are able to work close to the production facility. The overall trend in the sector is completely different, but we want to go against the trend because we believe that being a pioneer in pattern design goes hand-in-hand with in-house production. Having in-house manufacturing is extremely important for product development as it enables us to test new more sustainable materials and colors. The base fabrics for our own printing factory are sourced, for example, from Germany, Portugal, Turkey and Peru.
Human rights in supply chain
Marimekko has strong values, which together we call Marimekko Spirit. One of our values, "fairness to everything and everyone" crystalizes our sustainability thinking and extends to our own personnel and our customers, as well as our partners around the world – for example, to workers who manufacture Marimekko products. The sustainability of our supply chain is important to us, as bringing joy to everyday life through prints and colors must not be at the expense of others.
We are committed to respect human rights in all our operations. We recognize that our operations might have impact in areas where values, practices, and conditions for the realization of human rights can vary. Our approach to human rights is based on the United Nations Guiding Principles on Business and Human Rights (UNGPs). According to them, in addition that the governments have the obligation to protect human rights, companies have a responsibility to respect human rights and to avoid the violation of human rights in all their operations.
Respect for human rights is included in Marimekko's Supplier Code of Conduct and the supplementing product policies. Supplier Code of Conduct includes strict principles for example against child labor and forced labor, the right for the workers to organize and the right to equal treatment. Our due diligence process for human rights consists of careful supplier selection and assessment, contractual obligations, questionnaires to suppliers for example regarding the origin of materials used, independent third-party audits conducted mainly in factories located outside Europe in countries considered higher risk, monitoring through factory visits by Marimekko employees, follow-up of corrective actions, training for Marimekko's sourcing team, external assessments and external reports as well as collaboration in industry organizations. We recognize that the risks of human rights violations in their supply chain extend from the suppliers with whom we have a business relationship, further, to raw material producers. We continuously develop our processes for assessing human rights impacts and risks, mitigating negative human rights impacts and, if identified, addressing these impacts. In the long term we aim at full transparency of our operations and supply chain, starting with raw materials.
Children's rights are particularly important to us and we do not accept the use of child labor. We recognize that, for example, in certain cotton cultivation areas use of child or forced labor still exists. For this reason, we have joined the international Cotton Pledge initiatives by Responsible Sourcing Network. We do not accept materials, in particular cotton, from very high-risk areas. Very high-risk areas are defined in our product policies.
The amfori BSCI Code of Conduct and our Supplier Code of Conduct both include the principle of fair remuneration, sufficient to provide workers with a decent living and meet their and their family's basic needs. The legal minimum wages set by various countries or wages based on collective agreements are sometimes not enough to meet this requirement. We at Marimekko are committed to promoting a living wage for the workers in our supply chain. As the issue is multifaceted and involves a range of stakeholders from businesses to legislators and local unions or other worker representatives, we believe that the best way to further the objective is through collaboration. As a member of the amfori BSCI, we support their initiatives aimed at furthering the realization of living wages in supply chains. Read more about amfori BSCI's approach here.
It is challenging to ensure that human rights are fully respected through our value chain, but we are determinedly and persistently working on the transparency of our sourcing and on developing the production conditions together with our suppliers. We also collaborate with others, through initiatives such as the amfori BSCI (Business Social Compliance Initiative) and the Better Cotton Initiative (BCI).

Read more on Marimekko's sourcing:
Marimekko Supplier Code of Conduct
Marimekko product policies
Marimekko suppliers and their contact information