Marimekko Spirit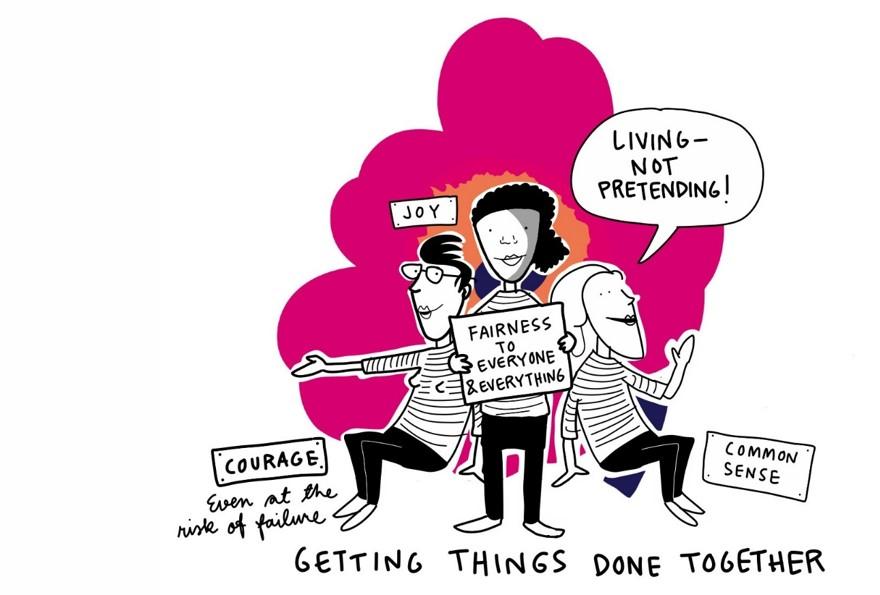 Living, not pretending
Everyone should be a genuine person and following bandwagons should be avoided. Once in a while it's good to ask if this tastes good or is there perhaps some kind of an off-flavor. Most often, you should just boldly follow your own internal beacon.
Fairness to everyone and everything
We at Marimekko are always fair to everyone and everything. Fair atmosphere is a foundation for being creative and bold. We operate in a sustainable way and create meaningful quality products that bring people joy for a long time and are gentle also for the environment. For us, our word is our bond and we also expect the same of all our partners.
Common sense
At Marimekko, we believe in the empowerment of individuals and teams, and encourage everyone to work like the company belonged to all of us. A target-oriented way of working takes far, empty wishful thinking doesn't. We need to reach for the heights and to think commercially along with using plain common sense.
Getting things done – together
An atmosphere of openness and trust evolves from working together and enforcing inclusion and diversity. Such atmosphere enables us to be bold, creative and successful. At Marimekko, we highly respect and value everyone's unique contribution and work as one team to get things done. This way of thinking and working together with thorough planning and taking ownership helps us to not only be efficient but also to build a better working life. Rolling up one's sleeves and getting things done together is expected from everyone.
Courage, even at the risk of failure
We develop Marimekko with a long-term view because we want to build something unique and meaningful. We at Marimekko foster an environment where you feel safe to be bold and to take risks – mistakes can and should always be turned into a learning experience. Without courage there is no creativity. It helps to be brave if you don't take things too seriously – and especially not yourself.
Joy
We at Marimekko have always sought – and found – the keys to a beautiful and joyful everyday life. We want to taste the authentic flavor of life, thus finding joy and intensity for each day. So simple is that.