The Marimekko Spirit, unique corporate culture and getting things done
Our success springs from the solid commitment of our personnel, and from our ability to allow everyone to put their skills and creativity into use in their daily work. The Marimekko Spirit – our core values – guides our work and time together. At Marimekko, there is a unique atmosphere and an open, unpretentious corporate culture, one which is based on creativity and entrepreneurship. Relationships at the workplace are straightforward and we get things done together, thanks to our low organizational hierarchy and caring working community.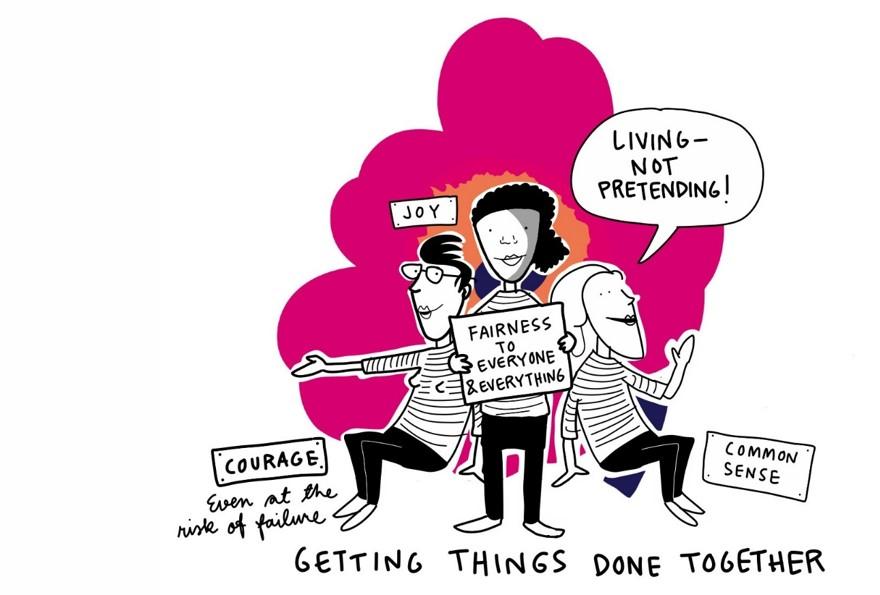 Marimekko as an employer
Marimekko employs around 400 professionals in seven countries. We are undergoing a phase of international growth. The number of employees has grown, particularly due to the new stores that have opened around the world and the emphasis we have placed on sales and marketing. Because the company is expanding its operations, expertise in international business is becoming increasingly important for Marimekko employees. In the last couple of years, Marimekko employees have had more and more opportunities to work in a multicultural environment and transfer to new tasks within the company. Job rotation helps employees gain an overall view of the business and develop their skills.
Personnel development and well-being
At Marimekko, personnel development means fostering the motivation and constant growth of employees, in line with our business targets. We encourage and support employees to pursue personal and professional growth, by providing them with training, job rotation, on-the-job learning and other development opportunities. When we do things together, we learn from each other, and the best ideas are always born through interaction. Marimekko encourages managers to hone their managerial and leadership skills, in order to become inspiring team leaders and create prerequisites for smooth operation.
Well-being at work is built every day, in cooperation, and it can be seen in the enthusiasm, joy of working and commitment of our personnel, and in the high quality and profitability of their work. Safe working conditions, competent management and meaningful tasks are the cornerstones of well-being at work. The unique Marimekko Spirit prevails in the working community.
Marimekko personnel benefits in Finland
Staff discount
Work clothes benefit
Gifts and honours
Recreational activities and events for employees