Supply chains in the textile industry are complex and involve many actors. Consequently, enhancing transparency in the supply chain – from raw materials to the stores – demands patient work, both within our company   and in cooperation with other actors in the sector. In 2022, 52 percent of Marimekko's products were made in EU countries and the rest mostly in other European countries and Asia. For transparency, we publish an annually updated list of our main partner suppliers. The content of the list is aligned with the requirements of The Apparel and Footwear Supply Chain Transparency Pledge and you can find it on our guiding principles page.
As part of our material strategy, we continuously increase sourcing of more traceable materials, including organic cotton and responsibly sourced wool. Transparency is enhanced also by providing customers continuously with more sustainability information on products.
Marimekko's sourcing adheres to the principles of responsible sourcing. All partner suppliers must commit to following our Supplier Code of Conduct. The Supplier Code of Conduct details, among other things, the respect for human rights, including strict principles against child labor and forced labor, the right for the workers to organize and the right to equal treatment. Read more on the Supplier Code of Conduct.
We are a member of the European amfori BSCI initiative, which provides tools for monitoring and improving working conditions in global supply chains. Purchase agreements signed with the suppliers bind the supplier to comply with the International Labour Organization Conventions and Marimekko Supplier Code of Conduct, which is based on the amfori BSCI Code of Conduct. Adherence to the Supplier Code of Conduct and other requirements is monitored e.g. with own factory visits. In addition, third-party audits are, for the most part, carried out in factories outside Europe, in countries that are considered higher risk.
In 2022, 100 percent of our purchases from partner suppliers operating in countries outside the EU were covered by social audits. A total of 26 amfori BSCI audits were carried out in 2022 at the factories of our direct manufacturing partners. The audits almost invariably identify areas for improvement, which is typical of manufacturing. The audit findings and areas for improvement are reviewed with the factory management and corrective action plans are put in place where necessary. Details on audit findings and corrective actions are reported in our Sustainability Review. Based on the follow-up audits conducted in 2022, corrective actions were completed for 23 percent of findings. However, the findings and required corrective actions are not fully comparable: some findings may take a lot of time and resources to correct, whereas others are smaller and easier to close. The implementation of remaining actions will be monitored by Marimekko and in future audits in accordance with the amfori BSCI audit cycle.
Manufacturing countries and suppliers
Marimekko's own printing factory in Helsinki prints all Marimekko fabrics sold by meter, as well as some of the fabrics used for kitchen textiles, clothing and bags – around a million meters per year. In addition, products are manufactured by skilled partner supplier network in Europe and Asia. Majority of Marimekko products are manufactured in EU countries and the rest outside the EU.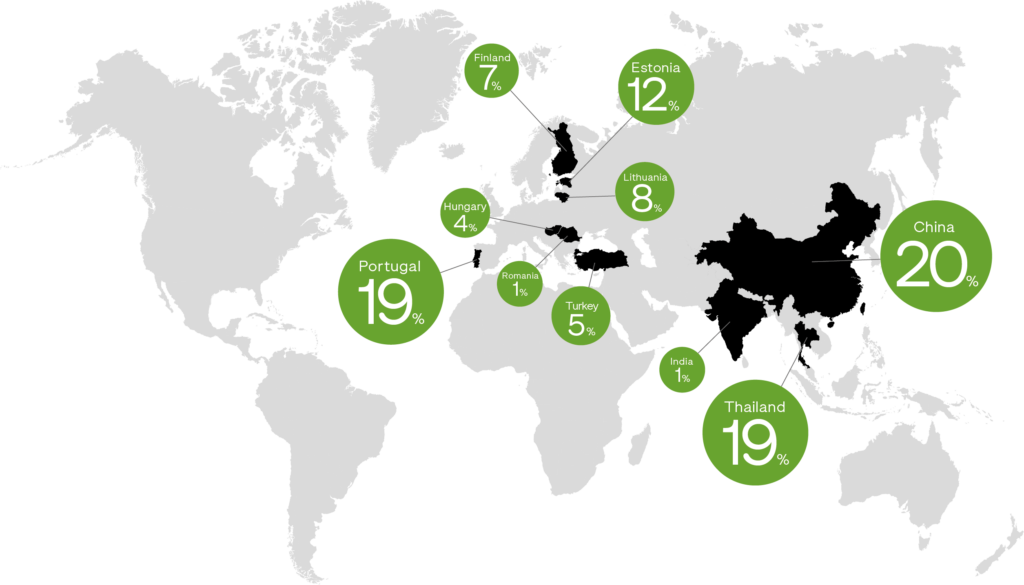 Good and competent suppliers play a major role in Marimekko's competitiveness and we strive to build long-term partnerships with our suppliers. In 2022, our products were manufactured by a global network of around 150 partner suppliers. You can find a list of Marimekko's partner suppliers on the guiding principles page.
With the help of skillful and diverse supplier network we can offer our customers a wide range of high-quality products. The goal of Marimekko's sourcing is to find the most competent manufacturer for each product. Regardless of where our products are made, we want to ensure that they are manufactured in accordance with our values, respecting people and the environment. We choose our suppliers carefully and, in our selection, in addition to commercial terms, we pay close attention to sustainability matters, such as working conditions, occupational safety and other human rights aspects.