Our vision is to be the world's most inspiring lifestyle design brand renowned for bold prints.

Watch the video below and learn about Marimekko's SCALE strategy as presented by CEO and President Tiina Alahuhta-Kasko.
Marimekko's long-term financial goals
Marimekko revised its long-term financial goals on 6 September 2022. The long-term financial goals are as follows:
annual growth in net sales 15% (earlier: over 10%)
comparable operating profit margin 20% (earlier: 15%)
ratio of net debt to EBITDA at year end max. 2 (unchanged)
the intention is to pay a yearly dividend; percentage of earnings per share allocated to dividends at least 50% (unchanged)
The previous financial goals were set in November 2018, and the company exceeded them at the end of 2021.
Focus areas of strategy 2023-2027: Scaling the Marimekko business and growth especially in international markets
Marimekko has defined the following five strategic success factors to scale growth of the Marimekko business during the next strategy period.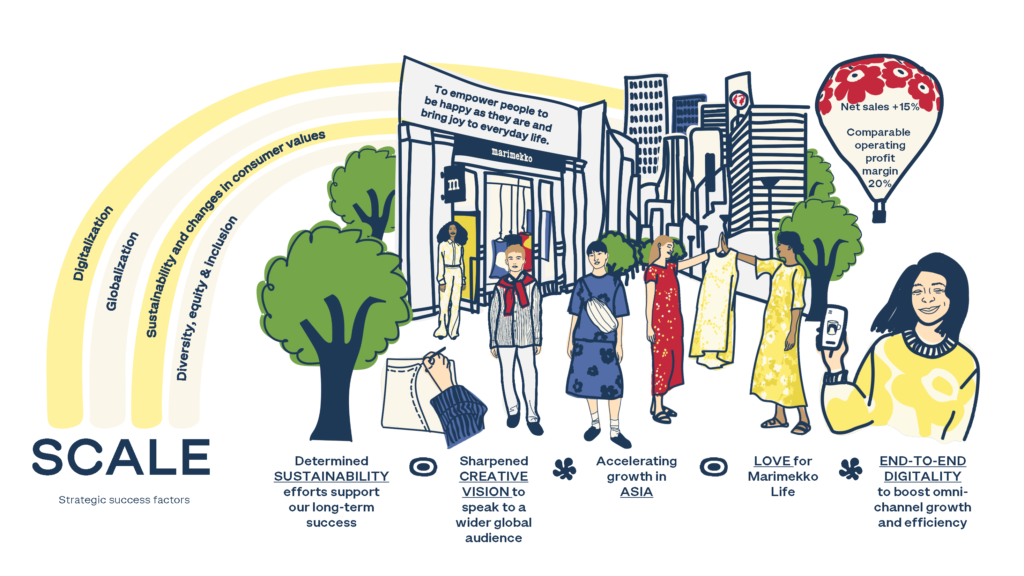 S: Determined sustainability efforts strongly support Marimekko's long-term success
C: Sharpened creative vision to speak to a wider global audience
A: Accelerating growth in Asia
L: Love for Marimekko life
E: End-to-end digitality to boost omnichannel growth and efficiency
Read more about the strategic success factors.