Interim Report Q3, 4 November 2020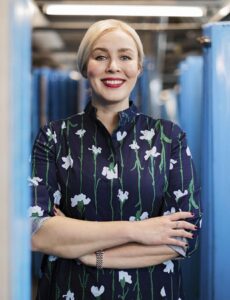 "Wholesale sales and prompt adjustment measures helped Marimekko increase its net sales and improve its results in a challenging operating environment. Continued strong online sales supported retail sales as the pandemic kept affecting customer numbers of brick-and-mortar stores.
"The coronavirus pandemic continues to heavily impact the fashion industry and specialty retail sector across the world. In managing this exceptional crisis, in addition to an ability to react quickly and an internationally attractive and relevant brand, Marimekko's strengths have been a comprehensive range of lifestyle products and a diverse business and distribution channel model. With the pandemic, consumers have become increasingly interested in home decoration, which has resulted in robust growth in sales of our home products. The relaxed feel of our ready-to-wear collection – now more evident than before – also appeals to consumers in these unusual circumstances. While the pandemic has understandably reduced footfall in retail stores, we have managed, to a large extent, to offset the decline in retail sales with online sales. We have also achieved strong growth in our wholesale sales.
"In the July-September period of 2020, our net sales grew by 10 percent despite the challenging situation and amounted to EUR 38.0 million (34.5). Net sales were boosted especially by a favorable trend in wholesale sales in Finland and EMEA. Our retail sales declined moderately considering the circumstances, as online sales continued to grow well. Net sales in Finland increased by 17 percent: wholesale sales grew significantly, partly due to nonrecurring promotions, and retail sales remained on a par with the comparison period. Our international sales rose by 2 percent thanks to successful wholesale sales. Prompt adjustment measures and net sales growth improved our comparable operating profit, which increased by 34 percent to EUR 10.5 million (7.8). The result was supported by subsidies granted in various countries to mitigate the negative business impacts of the coronavirus pandemic.
"In the January-September period of 2020, our net sales fell by 5 percent due to the impacts of the coronavirus pandemic and amounted to EUR 86.2 million (90.7). The majority of the Marimekko stores around the world were temporarily closed in the first or second quarter because of the pandemic. Net sales were weakened especially by a decline in retail sales in Finland and North America as well as a decrease in wholesale sales in the Asia-Pacific region. Some of the decline in net sales was offset by booming online sales as well as a strong trend in Finnish wholesale sales, which was partly due to nonrecurring promotional deliveries. Thanks to a reduction in fixed costs, our comparable operating profit rose to EUR 14.4 million (14.1).
"The coronavirus pandemic has expedited the transformation of consumers' purchasing behavior and intensified structural changes in our sector, such as digitalization. It has accelerated the shift to digital sales channels among customers — including new customer groups — and this will influence Marimekko's distribution channel choices in the future. The pandemic has also increased surplus inventories in the industry, and the recession created by the pandemic has made consumers more price sensitive. These changes in the operating environment pose challenges to the profitability of the fashion industry, which also puts Marimekko's operations under increasing pressure.
"During the year, we have successfully navigated the crisis and adjusted our operations to the exceptional circumstances through significant, and partly temporary, savings in fixed costs. At the same time, we must look after our long-term competitiveness and financial position. To strengthen these aspects and to respond even better to the requirements of the new operating environment, we unfortunately had to conduct consultative negotiations with our personnel in order to reorganize and streamline our operations in Finland and carry out corresponding processes in our organizations in Scandinavia, North America and Australia. Our new, even more customer-centric organization based on omnichannel thinking will improve our operating capabilities in this transforming market.
"The pandemic situation continues to be of concern in many of our markets, with new waves of infections being reported. This increases uncertainty in the final quarter of the year, which includes not only the holiday sales season but also other significant sales campaigns for Marimekko. We have systematically invested in the development of our digital business, and successful online sales are especially important in 2020. The line between e-commerce and physical stores is constantly blurring, and in the post-pandemic reality, stores need to fulfill their new role even more strongly in the eyes of consumers as meaningful meeting places and experiential platforms for what a brand has to offer. Our flagship store, which expanded to Helsinki's Pohjoisesplanadi this fall, is an excellent example. We will continue our determined efforts to develop a seamless omnichannel customer experience, and we will launch our revamped online store in early 2021.
"With disruption come also new opportunities and I firmly believe that our new organization and our long-term growth strategy are strongly positioned to capture the future growth opportunities for the sustainable, timeless and unique Marimekko lifestyle that the current megatrends support."
 Tiina Alahuhta-Kasko