Financial Statements Bulletin, 13 February 2020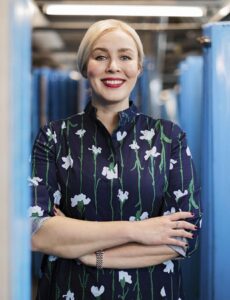 "Marimekko's strong development continued in 2019. Our net sales increased in all market areas and comparable operating profit improved significantly. We are in a good position to enter the new decade and continue our efforts on the path of our long-term international growth strategy.
"In 2019, our net sales increased by 12 percent and our comparable operating profit grew by 40 percent. Another year of continued strong development shows that we are moving in the right direction and making good progress towards our long-term financial goals of annual net sales growth exceeding 10 percent and an operating profit margin of 15 percent.
"Our net sales for the full year amounted to EUR 125.4 million (111.9). Sales in Finland increased by 12 percent and retail sales in particular showed an especially good trend. In the international markets, growth was achieved particularly through wholesale sales and licensing income in the important Asia-Pacific region and wholesale sales in EMEA. International sales grew by 12 percent in total. During the past few years, we have invested in the long-term development of our digital business, and last year vigorous growth in our online sales continued. Thanks to sales growth and an improved relative sales margin, our comparable operating profit rose to EUR 17.1 million (12.2).
"In the October-December period, our net sales grew by 17 percent to EUR 34.7 million (29.7), partly driven by a successful holiday season. In our strong domestic market, sales increased by 20 percent; international sales were up by 12 percent. Boosted by sales growth, our comparable operating profit rose by 87 percent to EUR 3.0 million (1.6).
"In our strategy period extending to 2022, our goal is to achieve markedly stronger growth and profitability than before. Accomplishing this goal requires an internationally recognised and desirable brand as well as a product portfolio that appeals to an increasingly broad global customer base. As a continuation of our successful partnership in spring 2018, we launched a new limited-edition collaboration collection with the Japanese global apparel retailer Uniqlo in November. The Uniqlo x Marimekko brand collaboration again presented us with a unique opportunity to introduce a very large global audience to Marimekko and so strengthen our core business through increased international brand awareness. The results of our long-term work to modernise our collections were also evident during the year: among our product lines, the strongest growth was seen in 2019 in the categories that spearhead our communication activities, namely fashion (20 percent) and bags (17 percent). This growth was supported by interesting product launches, including the Marimekko Kioski streetwear collection and a new leather bag line.
"In 2020, we will further enhance our investments in international growth, among other things, by increasing marketing to raise our global awareness and by further strengthening our competences in international business. We have also begun planning an experimental omnichannel retail experience of the future while revamping and expanding our store network and investing in the development of digital business, which is an important driver of growth for us. As we continue our work for international growth, at the same time we naturally carefully monitor the development of exceptional circumstances such as the coronavirus and the unstable situation in Hong Kong.
"We started the new year in fully renovated premises. We believe that the new look of our head office will increase the Marimekko house's appeal as a destination for fans of our brand. Especially, the renovation will support our workplace culture as we build Marimekko's international success story together with our personnel.
"The year 2020 is historic for Marimekko in another regard as well: thanks to an upward trend in our market capitalisation, Marimekko was moved to the segment of mid-cap companies on the Nasdaq Helsinki stock exchange at the beginning of the current year."
 Tiina Alahuhta-Kasko