Financial Statements Bulletin, 18 February 2021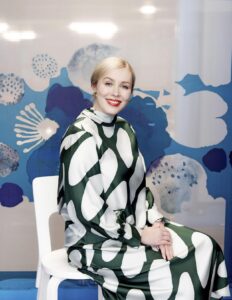 "In spite of the challenging operating environment, our net sales for 2020 were almost on a par with the previous year, with both online sales and wholesale sales performing well. Thanks to operational adjustments, our comparable operating profit improved by 18 percent.
"In 2020, the global fashion industry and specialty retail sector faced the worst crisis in decades as a result of the coronavirus pandemic. Our long-term work to develop the Marimekko brand and our digital business, our comprehensive range of lifestyle products, a diverse business and distribution channel model and our ability to adjust our operations rapidly are among the factors which helped us successfully navigate in an extremely difficult operating environment. All Marimekko employees are to thank for this and we want to reward them with a one-off bonus. Our teams around the world have determinedly worked together and made Marimekko one of the fewer and fewer success stories in an industry undergoing an intense transformation.
"In this challenging situation, our net sales in the October-December period of 2020 grew by 8 percent to EUR 37.4 million (34.7). Net sales were boosted especially by a favorable trend in wholesale sales in Finland, EMEA and Scandinavia. The worsened coronavirus situation and tightened restrictions in different markets had a clear impact on customer numbers in stores, but our online sales continued to grow strongly, and all in all, retail sales decreased quite moderately. Net sales in Finland increased by 6 percent, with wholesale sales growing significantly, in particular due to nonrecurring promotions. Our international sales rose by 11 percent thanks to successful wholesale sales. Net sales growth and adjustment measures improved our comparable operating profit, which increased by 92 percent to EUR 5.8 million (3.0).
"Despite the impacts of the coronavirus pandemic, our full-year net sales were almost on a par with the previous year: net sales only declined by 1 percent, amounting to EUR 123.6 million (125.4). Due to the pandemic, most Marimekko stores around the world were temporarily closed in the first or second quarter, and the pandemic noticeably reduced footfall during the second half of the year as well. Net sales were weakened especially by a decline in retail sales in Finland, North America and Scandinavia as well as a decrease in wholesale sales in the Asia-Pacific region. Booming online sales, which reduced the decline in retail sales, as well as a favorable trend in wholesale sales in Finland, Scandinavia and EMEA, on the other hand, had a positive impact on net sales. The increase in Finnish wholesale sales was partly due to nonrecurring promotional deliveries. Thanks to adjustment measures swiftly initiated early in the year, our comparable operating profit rose to EUR 20.2 million (17.1).
"Our agility and success in the pandemic year have further strengthened our trust in our international growth strategy. The pandemic has also intensified the megatrends in our industry, such as digitization and changes in consumers' values, especially the increased importance of sustainability. This contributes to making the value-based, timeless and sustainable Marimekko lifestyle brand more relevant than ever, thus supporting our growth objectives. We must have the courage to seize the opportunities available to us and to invest in international growth. We believe now is the right time. Therefore, our plans for 2021 include further strengthening the building blocks of international growth by investing in digital business, seamless omnichannel customer experience, sustainability and brand awareness. It is also important to continuously develop the competences of our personnel to work in a rapidly changing operating environment. Combined with the work we have been doing for years already, these investments provide us with an excellent stepping stone to the next phase of international growth, targeting Asia in particular. However, the pandemic situation that plagues our industry continues. We are closely monitoring the development of the situation in each of our market areas and will adjust our plans as necessary.
"In line with our values, we see it as our duty to strongly promote sustainability throughout our value chain and, by the power of our example, to move the entire industry forward towards a more sustainable future. Our new sustainability strategy, published in December 2020, and our ambitious goals are built around three guiding principles: timeless design brings joy for generations to come, the products of tomorrow leave no trace, and positive change through fairness and equality. We believe that, in the future, timeless and sustainable products will be made in balance with the environment, in line with the principles of the circular economy, and with full transparency, starting with raw materials. Our long-term vision is that our operations leave no trace on the environment. Late in 2020, we took a step toward achieving this goal when our own operations became carbon neutral as a result of continuous development work and emission offsetting.
"Marimekko is celebrating its 70th anniversary in 2021. The year will see, among other things, the launch of interesting special products that draw on the heart of the world of Marimekko prints as well as some entirely new kinds of collaborative projects. In these unprecedented times, it is important to find new ways to inspire people, and we would like to warmly welcome our entire community to celebrate with us."
 Tiina Alahuhta-Kasko