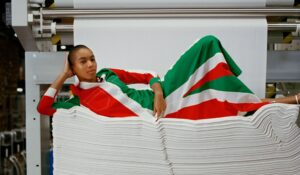 Sustainability is part of Marimekko's DNA and sustainability considerations are part of the daily work of everyone at Marimekko. Our design philosophy and our operations have always been based on a sustainable approach: we want to provide our customers with timeless, functional and durable products that bring them long-lasting joy and that they will not want to throw away.
We want to be at the forefront of developing more sustainable products and practices. In our new sustainability strategy, published in December 2020, we have therefore raised our sustainability targets both for our own operations and for the entire value chain to a new, markedly more ambitious level.
To reach our ambitious goals, we have defined three guiding principles for our sustainability work:
Timeless design brings joy for generations to come
The products of tomorrow leave no trace
Positive change through fairness and equality
Our guiding principles are deployed throughout our value chain to lengthen our products' lifetime and minimize any negative impact to ultimately reach a circular value chain that brings long-lasting joy in balance with the environment and is fair to everyone.
We have started several projects to reduce emissions substantially within our entire value chain – we aim to align our emission targets with those of the Paris Agreement on climate change.
We commit to reducing the environmental footprint of our textile materials by 30% (calculated using the Higg Material Sustainability Index) by the end of 2025. This is achieved by using more sustainable materials, for example organic and recycled alternatives. Through new material technologies, we aim to reduce our footprint even further by 2030. As a result of continuous reduction of our greenhouse gas emissions and offsetting of the remaining emissions, our own operations are carbon neutral as of 2020.
In addition, we aim to for example:
reduce emissions from our own operations by 40% by the end of 2025
reduce the emissions of logistics by 50% per kg of goods transported by the end of 2025
reduce water usage by 50% per kg of textile material by the end of 2025.
Read more about our principles, roadmap and targets.
Watch the highlights of our new sustainability strategy
Read more about our sustainability strategy for 2016-2020 and its execution from our Sustainability Report 2020.