Environmental impacts of our operations
Our goal is to constantly reduce the environmental impacts of our operations. The main environmental impacts of our own operations are related to the in-house textile printing factory in Helsinki. We have set environmental targets until the year 2020 to reduce energy consumption, water consumption and the amount of waste, to increase the use of renewable energy sources, and to limit carbon dioxide emissions. At the moment, four out of these five targets are on track to be achieved. We have, for example, reduced the emissions of our own printing factory and headquarters by almost 80 percent since 2010. In our annual Sustainability Review, you can learn more about our targets and how we are progressing.
Reducing emissions
A significant part of the emissions during a product's life cycle comes from activities outside our in-house operations in the value chain, for example during the production of materials, during logistics, in the factories making our product as well as when the products are used. When producing a cotton garment, for example, Marimekko accounts for roughly a third of the value chain's carbon dioxide emissions from the cotton field to the stores. In order to minimize the negative environmental impacts, we have started to map our carbon footprint in more detail. We will use the data collected to set new targets for reducing emissions both in our in-house operations and in our supply chain.
In 2019, we conducted a study to calculate the carbon footprint of the printing factory and head office operations at the Marimekko House in Helsinki. The study covered the emissions from energy production and use, the materials used and food consumed, and business travel and commuting by the people working on the premises. The carbon footprint totaled 864 tonnes of carbon dioxide equivalent, the biggest contributor being the use of district heating.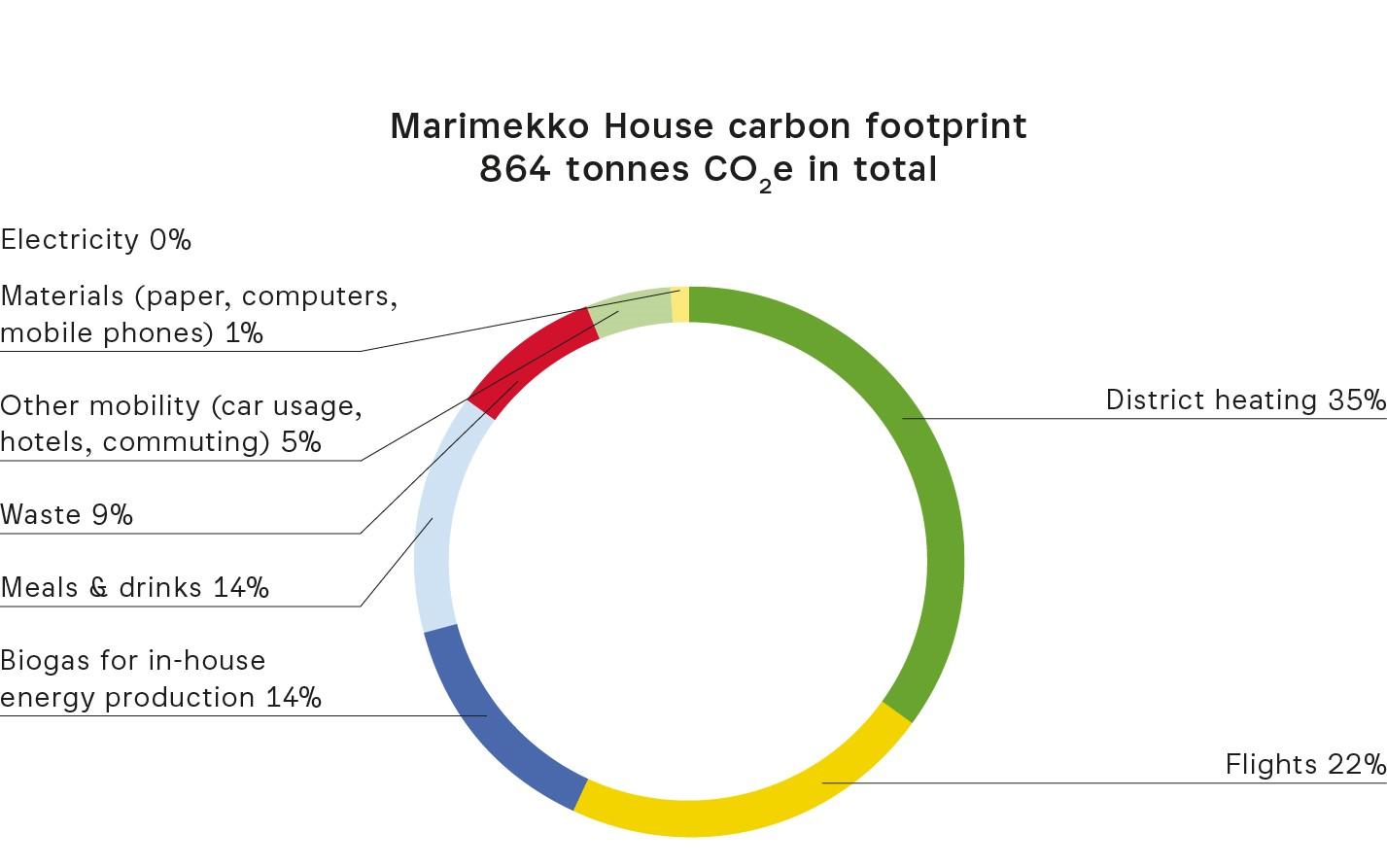 During the year we also conducted a survey on the use of renewable energy among our suppliers. Our study showed that 82 percent of our direct suppliers use renewable energy sources. Furthermore, 16 percent of the suppliers use only renewable energy sources in their operations. 18 percent use only fossil fuels as their energy source. We regularly discuss environmental topics with our partner suppliers, for example as part of supplier selection and assessment, as well as during factory visits.
Chemicals
In textile manufacturing processes such as bleaching, dyeing, printing and finishing chemicals are used, which are important for the appearance and properties of the textiles. Apart from finishing treatments, majority of the chemicals are washed off after the dyeing or printing. The use of chemicals in production is strictly regulated in Europe with the REACH chemical legislation. Also Marimekko's other customer markets such as Japan and the United States have their own stringent chemical regulations. Legislation helps to restrict the use of substances found to be harmful to people and the environment. It is Marimekko's responsibility to ensure that all Marimekko products – manufactured in Europe and elsewhere – comply with chemical requirements of both European legislation and the legislation and regulation in Marimekko's other customer markets. Marimekko has a Restricted Substances List for its suppliers, which includes the restrictions applicable to textile products, among others. We monitor compliance with the restrictions with regular product or material tests. Testing is done in external laboratories.
We also continuously seek to find possibilities for environmentally better alternatives to chemicals used in our manufacturing processes. In 2019, we completed the work to phase out PFC compounds and PVC plastic in our products – since July 2019, all new products have been free from PFCs and PVC.
Our products are not treated with flame retardants and we do not use biocides in our products or to protect them during transportation. Biocides are active substances that are meant to protect items against microbes, for example.