We believe that determined efforts to improve sustainability strongly support Marimekko's long-term success, which is why the development of sustainability is one of the focal points of our strategy. Sustainability is an increasingly important factor in consumer choices, and a growing number of consumers are prepared to pay more for sustainably produced products. Our ambitious sustainability efforts are also essential for attracting and retaining talent as well as investors. In addition, there are several initiatives currently under way to increase related regulation.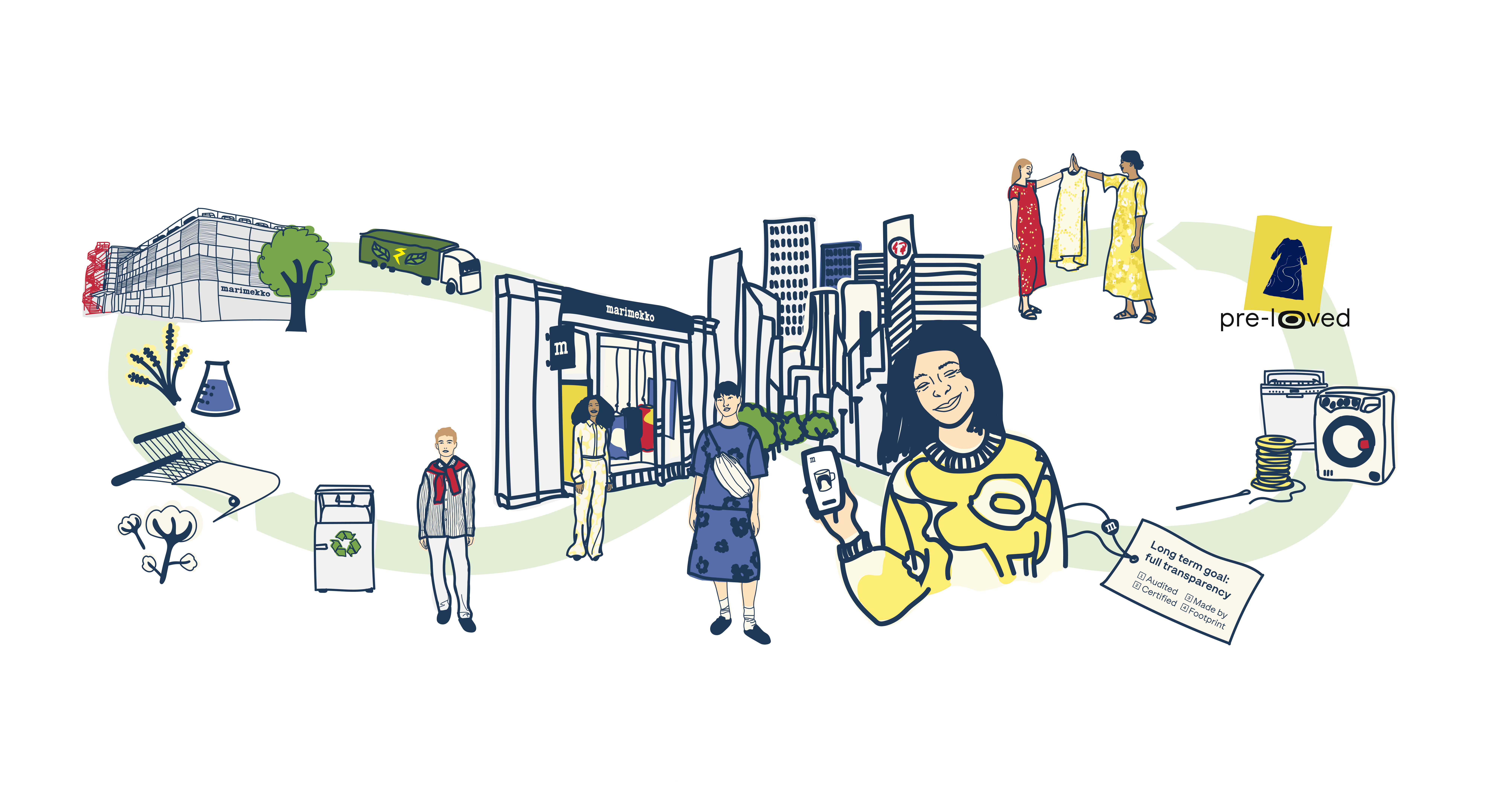 In our sustainability strategy, we have defined three main principles that guide us on our journey towards a more sustainable future:
Timeless design brings joy for generations to come
We aim to continue creating new classics – high-quality products that stand the test of time. Our objective is that, during their lifetime, Marimekko items bring joy to many different consumers, even generations, after which they are finally recycled into new products.
Positive change through fairness and equality
We want to promote the implementation of fairness and equality in our value chain and see to it that our entire value chain is built on these principles. We will continuously provide more information about the origin of our products, ultimately aiming at full transparency of our operations and supply chain, starting with raw materials. By actively collaborating with other players in the industry, we can promote sustainable practices and drive positive change across the whole sector.
The products of tomorrow leave no trace
We have launched several projects to significantly reduce emissions in our entire value chain – it is our intention to align our emissions-related targets with those of the Paris Agreement. We are committed, for example, to reducing the greenhouse gas emissions from the textile materials that we purchase, from our own operations and logistics, as well as to reducing water use of textile materials. As a result of continuous development work and emission offsetting, our own operations, i.e. our textile printing factory, our offices and our stores around the world, have been carbon neutral since 2020.
More sustainable operating practices throughout the value chain
Improving sustainability is a journey where each milestone is followed by a new goal. Our current sustainability strategy extends to the end of 2025. The targets and focus areas we have determined for this period apply not only to our own operations but also to our entire value chain, spanning the entire product life-cycle from materials to end use.
Comprehensive sustainability efforts are important because our industry is characterized by long and complex supply chains. The development of transparency and sustainability in the supply chain requires a long-term effort, both within our organization and in cooperation with our partner suppliers, for example. At the same time, a significant proportion of the environmental impacts of our value chain arise from the use and care of the products, so customer communication also play an important role.
In addition to seeking continuous improvement in our day-to-day operations, we are involved in many cooperation projects and networks in the textile and fashion industry. We believe that collaboration is the most effective way to promote sustainable business practices. We also work together with numerous Finnish companies on material innovation to support the renewal of the entire industry by enabling the testing of more sustainable textile materials, dyes and coatings at our textile printing factory in Helsinki.
Innovations related to technology, materials and the business model help us move gradually towards our long-term objective: a value chain that is in line with the principles of the circular economy, where timeless products provide long-lasting joy and the value chain is in balance with the environment while ensuring fairness towards all of the participants in the value chain.